Hold On to Your Kids: Why Parents Need to Matter More Than Peers (Paperback)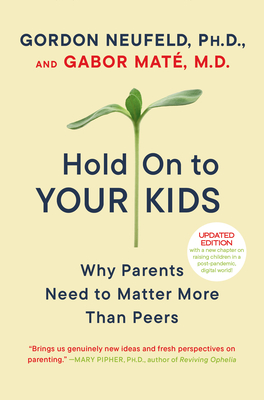 $18.00

Usually Ships in 1-5 Days
Description
---
An urgently needed guide to understanding the outsized risks of peer pressure and helping your child navigate this tricky social obstacle, from clinical psychologist Gordon Neufeld and Gabor Maté, M.D., the New York Times bestselling co-author of The Myth of Normal—now updated with chapters on raising children in a digital world

WINNER OF THE NATIONAL PARENTING PUBLICATIONS GOLD AWARD • "A worthy book that brings us genuinely new ideas and fresh perspectives on parenting."—Mary Pipher, Ph.D., author of Reviving Ophelia
 
International authority on child development Gordon Neufeld, Ph.D., joins forces with New York Times bestselling co-author of Myth of Normal, Gabor Maté, M.D., to tackle one of the most disturbing trends of our time: Children today looking to their peers for direction—their values, identity, and codes of behavior. This "peer orientation" undermines family cohesion, interferes with healthy development, and fosters a hostile and sexualized youth culture. Children end up becoming overly conformist, desensitized, and alienated, and being "cool" matters more to them than anything else.
 
Hold On to Your Kids explains the causes of this crucial breakdown of parental influence—and demonstrates ways to "reattach" to sons and daughters, establish the proper hierarchy in the home, make kids feel safe and understood, and earn back your children's loyalty and love. This updated edition also specifically addresses the unprecedented parenting challenges posed by the rise of digital devices and social media. By helping to reawaken instincts innate to us all, Neufeld and Maté will empower parents to be what nature intended: a true source of contact, security, and warmth for their children.
About the Author
---
Gordon Neufeld, Ph.D, is a Vancouver-based clinical psychologist, internationally renowned as a foremost authority on child development. His Neufeld Institute delivers many courses he has created for parents, educators, and helping professionals on several continents. He is recognized for his unique ability to unlock the clues to seemingly complex problems of child rearing and education.
 
Gabor Maté, M.D., is a physician and the New York Times bestselling author of The Myth of Normal, When the Body Says No, Scattered Minds, and In the Realm of Hungry Ghosts. A sought-after authority on stress, mind-body health, ADHD, parenting, and addictions, he travels extensively, addressing health personnel, teachers, and lay audiences across North America and internationally.
Praise For…
---
"Hold on to Your Kids blows in from Canada like a Blue Northern, bringing us genuinely new ideas and fresh perspectives on parenting. The authors integrate psychology, anthropology, neurology and their own personal and professional experiences as they examine the 'context' of parenting today. This is a worthy book with practical implications for mom and dad."
—Dr. Mary Pipher, author of Reviving Ophelia and The Shelter of Each Other

"Hold on to Your Kids is visionary book that goes beyond the usual explanations to illuminate a crisis of unrecognized proportions. The authors show us how we are losing contact with our children and how this loss undermines their development and threatens the very fabric of sociey. Most importantly they offer, through concrete examples and clear suggestions, practical help for parents to fulfill their instinctual roles. A brilliant and well written book, one to be taken seriously, very seriously."
—Peter A. Levine Ph.D., International teacher and author of the best selling books: Waking the Tiger, Healing Trauma and It Won't Hurt Forever, Guiding Your Child through Trauma

"The thoughts and perspectives presented by the authors are informative — even inspirational — for those who choose to dedicate their lives and energy to students."
—Bulletin of the National Association of Secondary School Principals

"With original insights on parent-child attachments and how parents can restore them, this is a book for revitalizing families and rekindling the song in their children's hearts."
—Raffi, children's troubadour, founder of Child Honoring Society Institute

"With simple ideas and steps, this book is directed not only to parents, but to all those — educators, social workers, counselors — whose lives and work bring them into contact with children."
—Quill & Quire

"Though this is Neufeld's personal theory, Maté (Scattered Minds, When the Body Says No) has expressed his colleague's ideas in precise and hard-hitting prose that makes complex ideas accessible without dumbing them down. The result is a book that grabs hard, with the potential to hit many parents where they live."
—The Edmonton Journal

"[M]ay serve as a loud wake-up call for mothers and fathers….this one offers what many of the others do not — that rare commodity known as common sense."
—Winnipeg Free Press

"With the benefit of 30 years of research and experience, Neufeld has crafted a coherent, compelling theory of child development that will cause an immediate frisson of recognition and acceptance in its readers. His approach has the power to change, if not save, the lives of our children."
—National Post

"The authors present doable strategies to help parents help their kids. If their advice is taken to heart, there's hope there will be more warmth and security all round."
—The Georgia Straight

Praise for Scattered Minds by Gabor Maté, M.D.
"Rare and refreshing. . . . Here you will find family stories, an accessible description of brain development and sound information. You will also find hope."
—The Globe and Mail

"An utterly sensible and deeply moving book written for a general audience."
—The Vancouver Sun