The Poetry of Pablo Neruda (Paperback)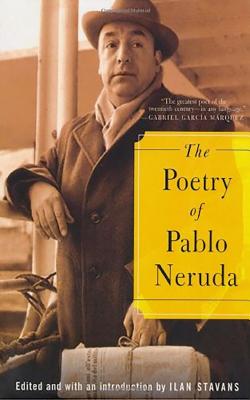 $25.00

Usually Ships in 1-5 Days
Description
---
The Poetry of Pablo Neruda offers the most comprehensive English-language collection ever by "the greatest poet of the twentieth century--in any language" (Gabriel García Márquez).

"In his work a continent awakens to consciousness." So wrote the Swedish Academy in awarding the Nobel Prize to Pablo Neruda, the author of more than thirty-five books of poetry and one of Latin America's most revered writers, lionized during his lifetime as "the people's poet."

This selection of Neruda's poetry, the most comprehensive single volume available in English, presents nearly six hundred poems, scores of them in new and sometimes multiple translations, and many accompanied by the Spanish original. In his introduction, Ilan Stavans situates Neruda in his native milieu as well as in a contemporary English-language one, and a group of new translations by leading poets testifies to Neruda's enduring, vibrant legacy among English-speaking writers and readers today.
About the Author
---
Pablo Neruda (1904-73), one of the renowned poets of the twentieth century, was born in Farral, Chile. He shared the World Peace Prize with Paul Robeson and Pablo Picasso in 1950, and he was awarded the Nobel Prize in Literature in 1971. His books include Residence on Earth, Canto General, Extravagaria, and Isla Negra.
Praise For…
---
"Not since Whitman has a poet of genius embraced a whole continent, as Neruda has his, or spoken so directly to the nonpoets among his readers." —Selden Rodman

"Ambitious . . . Meticulously edited . . . Stavans deserves high praise for the volume he has assembled." —John Freeman, San Francisco Chronicle

"The Poetry of Pablo Neruda advertises itself as 'the most comprehensive single volume available in English'--and it certainly is." —Charles Simic, The New York Review of Books

"The greatest poet of the twentieth century--in any language." —Gabriel Garcia Marquez

"[This book provides] an opportunity to reflect on the poet's achievement and his canonical position." —Christopher Winks, The Harvard Review

"If, as Stavans believes, 30 years after his death the time is right for a reappraisal of Neruda, then this volume is just what's needed to jump-start the process. Highly recommended." —Library Journal

"Critic Ilan Stavans has created the first comprehensive English-language survey of Neruda's legendary oeuvre, judiciously selecting and expertly discussing 600 poems to create a genuinely invaluable and deeply pleasurable volume." —Booklist