There's No Such Thing As 'Naughty': The groundbreaking guide for parents with children aged 0-5 (Paperback)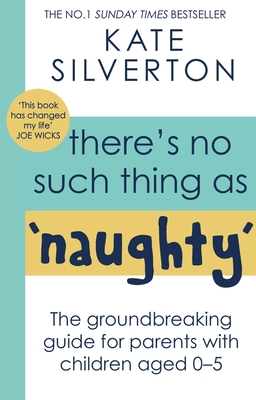 Description
---
THE #1 SUNDAY TIMES BESTSELLER

'This book has changed my life' Joe Wicks

'As a parenting support book this is in a class of its own . . . It is perhaps the most helpful book for parents of children of any age' Professor Peter Fonagy, CEO Anna Freud National Centre for Children & Families

'This is a book that will change lives' Dr Suzanne Zeedyk, Infant Psychologist

'This book is absolutely brilliant! I love that it is about parenting a healthy brain' Dr Guddi Singh, Paediatrician and Health Campaigner

Want to know the secret to tackling tantrums and tears, stopping squabbles in seconds AND lay the foundations for your child's good mental health in the process?

In There's No Such Thing As 'Naughty', mum to two young children, journalist and children's mental health advocate Kate Silverton shares her groundbreaking new approach to parenting under-fives that helps to make family life so much easier and and certainly a lot more fun!

Kate's unique strategies, easy-to-follow scripts and simple techniques will enable you to manage those tricky everyday challenges with ease - and help you to enjoy the strongest bond possible with your child, both now and in the years ahead.

Endorsed by leading figures in the field of children's mental health, at the heart of the book is a simple and revelatory way to understand how your child's brain develops and how it influences their behaviour.

Rooted in the latest science - explained really simply - this engaging, accessible and warm parenting guide will redefine how you see and raise your children.
About the Author
---
Kate Silverton is one of the UK's leading and most popular broadcasters - her lifelong passion has been to advocate for children and their emotional well-being. Her academic roots are in child development with a BSc in psychology and, after having children of her own, Kate decided to retrain as a child psychotherapist. She now combines her career in journalism with her studies, currently volunteering as a counsellor on placement working with children at a London primary school. Philanthropically, for many years she has supported charities like Place2Be, the Anna Freud National Centre for Children and Families, The South London and Maudsley NHS Foundation Trust, as well as the NSPCC and the Duke and Duchess of Cambridge's Royal Foundation. Kate's counselling work with children, her own personal experience of psychotherapy and the interviews she has conducted with world-renowned psychiatrists, neuroscientists and psychotherapists have all informed her approach and the concept she has devised for this book. Her philosophy is, 'If we get it right from conception to five, we can set our children up for life.'