Lethal Marriage: The Unspeakable Crimes of Paul Bernardo and Karla Homolka (Paperback)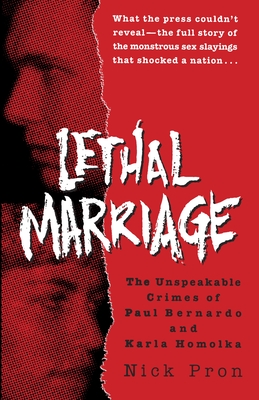 Description
---
One of Canada's finest crime reporters tells the whole story of the Bernardo-Homolka case.

The sensational trials of Paul Bernardo and Karla Homolka for abduction, rape, manslaughter and murder caused widespread controversy, as did the twelve-year sentence Homolka received as part of her deal with government lawyers. Yet, even though the publication ban on the case has been lifted, there is much the Canadian public still has not been told.

Nick Pron now gives us a comprehensive account of previously banned information about Bernardo and Homolka's backgrounds and early relationship; of Homolka's role in the death of her sister, Tammy; of what turned Bernardo into a sadistic rapist and killer; of slip-shod police work and lack of communication that gave Bernardo and Homolka the opportunity to murder schoolgirls Leslie Mahaffy and Kristen French; of the fifteen-month suppression of key videotape evidence; and a host of disturbing facts that were ruled inadmissable at the trial.

Warning: This book contains graphic descriptions of violence.
About the Author
---
Nick Pron is a veteran crime reporter who has written for The Toronto Star for nearly 30 years.