All Quiet on the Western Front (Hardcover)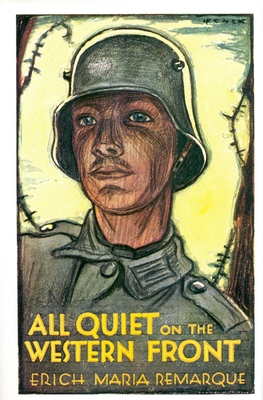 $28.00

Usually Ships in 1-5 Days
Description
---
The original US edition of the masterpiece of war literature depicting the plight of German soldiers during World War I—now an Oscar-nominated Netflix film
 
From the perspective of Paul Bäumer, a young German soldier in World War I, comes an unsettling tale of the mundanity and misery of trench warfare on the Western Front. When Paul and his comrades volunteer for the Imperial German Army, pressured into this act of patriotism by idealistic parents and a steely schoolmaster, they quickly learn that the authorities they trusted to shape their minds and guide their growth were condemning them to unimaginable danger and squalor, in the name of duty to an old world in its death throes.

         Bombarded by shells and bombs, by horror after horror, Paul absorbs the sordid lessons of combat and reflects upon the strangers on the arbitrary other side, transformed into enemies by a distant "word of command." With timeless insight and searing prose, Erich Maria Remarque draws readers into the embattled consciences of soldiers on the frontlines, enlivening a tragic story with characters whose survival one hopes for against all odds. 
Praise For…
---
"The greatest war book that has yet been written."—Redakteur Stohr

"Surpasses all other war books in its cruel truth."—L'Action Francaise

"Unquestionably the best story of the world war."—H. L. Mencken

"A great document. A powerful work of art."—Albert Engström