The Obsidian Tower (Rooks and Ruin #1) (Paperback)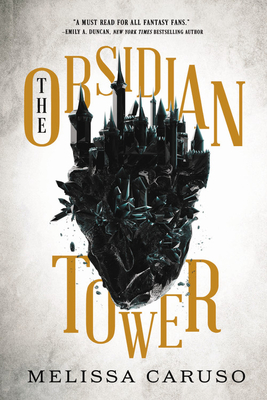 $18.99

Usually Ships in 1-5 Days
Other Books in Series
This is book number 1 in the Rooks and Ruin series.
Description
---
"A classic, breathtaking adventure brimful of dangerous magic and clever politics. A book that will thrill and delight any fantasy fan."―Tasha Suri, author of The Jasmine Throne

In this fresh epic fantasy bursting with intrigue and ambition, questioned loyalties, and broken magic, one woman will either save an entire continent or bring about its downfall. 

"Guard the tower, ward the stone. Find your answers writ in bone. Keep your trust through wits or war--nothing must unseal the door."

Deep within Gloamingard Castle lies a black tower. Sealed by magic, it guards a dangerous secret that has been contained for thousands of years.

As Warden, Ryxander knows the warning passed down through generations: nothing must unseal the Door. But one impetuous decision will leave her with blood on her hands--and unleash a threat that could doom the world to fall to darkness.

Praise for The Obsidian Tower:

"Block out time to binge this can't-stop story filled with danger and unexpected disaster. From the fresh take on time-honored tropes to a crunchy, intrigue-filled story, The Obsidian Tower is a must-read for lovers of high fantasy."―C. L. Polk, World Fantasy award-winning author of The Midnight Bargain

"Deftly balances two of my favorite things: razor-sharp politics and characters investigating weird, dark magic. A must-read."―Emily A. Duncan, author of New York Times bestseller Wicked Saints

Rooks and Ruin
The Obsidian Tower
The Quicksilver Court
The Ivory Tomb

For more from Melissa Caruso, check out:

Swords and Fire
The Tethered Mage
The Defiant Heir
The Unbound Empire
 
About the Author
---
Melissa Caruso was born on the summer solstice and went to school in an old mansion with a secret door, but despite this auspicious beginning has yet to develop any known superpowers. Melissa has spent her whole life creating imaginary worlds, and in addition to writing is also an avid LARPer and tabletop gamer. She graduated with honors in Creative Writing from Brown University and has an MFA in Fiction from the University of Massachusetts Amherst. Melissa's first novel, The Tethered Mage, was shortlisted for a Gemmell Morningstar award for best fantasy debut.
Praise For…
---
"Populated by a vibrant cast of characters and an intricate setting that's practically a character itself, The Obsidian Tower deftly balances two of my favorite things: razor sharp politics and characters investigating weird, dark magic. A must read for all fantasy fans."—Emily A. Duncan, author of New York Times bestseller Wicked Saints

"Block out time to binge this can't-stop story filled with danger and unexpected disaster. From the fresh take on time-honored tropes to a crunchy, intrigue filled story, The Obsidian Tower is a must-read for lovers of high fantasy."—C. L. Polk, World Fantasy award-winning author of Witchmark

"With The Obsidian Tower [Melissa Caruso] hits another level in terms of prose and tension. This is a truly excellent fantasy, and an epic beginning for a new trilogy."—Locus

"The Obsidian Tower caught me on page one-a gritty heroine hemmed in by sticky politics and her own disastrous magic, a mystery of ancient lore and current rumor, and the most fascinating palace I've encountered in decades."—Carol Berg, author of Dust and Light

"[F]ull of tension and immediately engaging. Even as the central goal of not opening the door plays out, Caruso builds a vivid universe...filling the pages with personality and depth."—BookPage (starred review)

"A classic, breathtaking adventure brimful of dangerous magic and clever politics. This is a book that will thrill and delight any fantasy fan."—Tasha Suri, author of Empire of Sand

"Full of magical and political intrigue, Caruso's latest novel will surprise and delight fans and new readers alike. With rich worldbuilding, nuanced characters, and ratcheting tension... A fulfilling read from start to finish."—Tara Sim, author of Scavenge the Stars

"Brimming with delights: gripping suspense, bombastic magic, political scheming, fascinating creatures, and ill-advised romance. Yet what I love most is that at its heart, it is simply the story of a young woman opening herself up to the world and embracing her own potential."—Jon Skovron, author of The Ranger of Marzanna

"Melissa Caruso's sparkling Obsidian Tower combines a fresh fantasy world with resonant characters and sweeps them into a plot full of political intrigue and magical chaos."—Rowenna Miller, author of Torn