I Love It When You Talk Retro: Hoochie Coochie, Double Whammy, Drop a Dime, and the Forgotten Origins of American Speech (Paperback)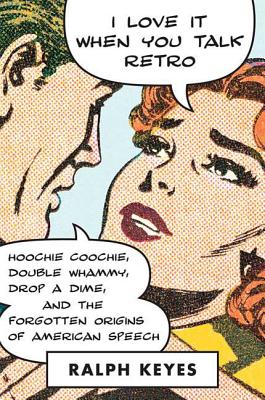 $23.99

Usually Ships in 1-5 Days
Description
---

Today's eighteen-year-olds may not know who Mrs. Robinson is, the size of a breadbox, or why going postal refers to a major uproar. Such "retroterms" are words or phrases whose origin lies in our past. I Love It When You Talk Retro discusses these verbal fossils that linger in our national conversation long after the topic they refer to has galloped into the sunset. That could be a person (Charles Ponzi), product (Edsel), radio show (Gang Busters), or ad slogan ("Cha-ching!"). How many realize that cooties was World War I slang for lice, or that doofus came from the comic strip Popeye?

Ralph Keyes takes us on an illuminating and engaging tour through what he calls retrotalk. This journey along the highways of history and byways of culture is an invaluable handbook for anyone who's ever wondered about an obscure word or phrase, "I wonder where that came from?" Ralph Keyes's book answers that question. Repeatedly. And is a lot of fun to read.


About the Author
---
Ralph Keyes is the author of The Quote Verifier, The Writer's Book of Hope, and The Courage to Write. He lives in Yellow Springs, Ohio, where he lectures and is a Trustee of the Antioch Writers' Workshop.
Praise For…
---
"At last, a genuine study of the sort of history you will actually want to know about. This book reveals the root of a large part of our culture and the way modern language has developed." —Albert Jack, author of Red Herrings and White Elephants and Shaggy Dogs and Black Sheep

"We love I Love It When You Talk Retro. How modern language came to be, and how it trickles into our daily speech is a fascinating subject. Ralph Keyes has done a fine job." —Jane and Michael Stern, authors of The Encyclopedia of Bad Taste, The Encyclopedia of Popular Culture, and Roadfood

"A fun, fact-packed and eminently browsable guide, which cuts the mustard, hangs a few myths out to dry, and should play in Peoria." —Henry Hitchings, author of The Secret Life of Words

"Everyone needs this book. Younger people need it to decipher the allusions and metaphors of their elders and older people need it to remind them of the days when today's retro was cutting edge. Ralph Keyes has outdone himself with this intensely useful and highly entertaining work. I Love It When You Talk Retro is an absolute gem." —Paul Dickson, author of The Dickson Baseball Dictionary, Family Words, and War Slang

"Keyes's nonacademic style and probing research make this both an entertaining read and a valuable reference work." —Publishers Weekly

"Makes addictive reading for word nerds and informative browsing for everyone else." —Booklist