Take the Bully by the Horns: Stop Unethical, Uncooperative, or Unpleasant People from Running and Ruining Your Life (Paperback)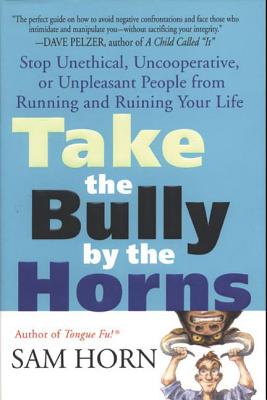 $20.99

Usually Ships in 1-5 Days
Description
---
How often have you wished you knew how to defuse the difficult people who wreak havoc on your life? Whether it's a neighbor who keeps disturbing your peace, an employer who manipulates you into unpaid overtime, a spouse who criticizes and controls your every move, a colleague who uses scare tactics to intimidate you, or a student who teases your child without mercy, Take the Bully by the Horns will give you real-life strategies stop people from taking advantage of you, including how to:

* Adopt a "don't you dare" attitude
* Refuse to play The Blame-Shame Game
* Beat em to the punch...line
* Stop paying the price of nice
* Put all kidding aside
* Act on your anger instead of suffering in silence
* Savior Self from martyrs and guilt-mongers
* Not be victimized by crazy-making Jekyll/Hyde personalities
* Adopt the Clarity Rules and Rights

With these tools, you can take back your peace of mind and your sanity. You'll be able to fight back constructively and prevent harrassment by bullies, from the workplace to the schoolyard. The bold suggestions in Take the Bully by the Horns will show you once and for all how to convince unfair or unkind relatives, co-workers, customers, or strangers to either behave cooperatively or leave you alone.
About the Author
---
Sam Horn, president of Action Seminars, has presented her real-life workshops to more than 400,000 people since 1981. Her impressive client list includes Young Presidents Organization, National Governors Association, Hewlett-Packard, Four Seasons Resort, the Fortune 500 Forum, the US Navy, and the IRS. She was the top rated speaker at both the 1996 and 1998 International Platform Association conventions in Washington DC, and is the emcee of the world-renowned Maui Writers Conference. She is the author of Tongue Fu!, What's Holding You Back?, and ConZentrate, which have been featured in Readers Digest, The Washington Post, Chicago Tribune, Cosmopolitan, Entertainment Weekly, Family Circle, Bottom Line Personal, and Executive Female, to name a few. She is a frequent media guest who has appeared on numerous TV and radio shows, including "To Tell the Truth" and NPR's popular "Diane Rehm Show." She lives with her sons Tom and Andrew in Virginia.
Praise For…
---
"I believe this book is a valuable resource for anyone who has ever been victimized." —Sal Severe, Ph.D, author of How to Behave So Your Children Will, Too