Sleeping Dogs Don't Lay: Practical Advice For The Grammatically Challenged (Paperback)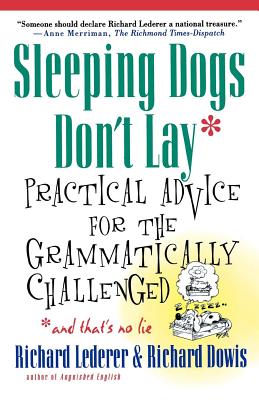 $19.99

Usually Ships in 1-5 Days
Description
---
For years Richard Lederer has entertained fans of the English language with his keen insights, commonsense advice, and witty patter. Now Lederer and Richard Dowis take readers on another journey through our most "wiggy" of languages. How many times have we all heard the word "viable" used in company meetings? The authors show us how "viable" was at one time extracted from medical books, where it is actually defined as "capable of living," and placed into our consumer marketplace. Then there is confusion between "lay" and "lie," which the authors clear up once and for all. These and dozens of delightful examples make this book pure pleasure for language buffs, writers, and teachers.
About the Author
---
Richard Lederer is the author of a shelf of books on language and grammar, including, most recently, The Bride of Anguished English. He cohosts weekly radio program on NPR in San Diego, and speaks throughout the country. He lives in San Diego, California.
Richard Dowis is president for the Society of the Preservation of English Language and Literature. He is author of The Lost Art of the Great Speech and, with Richard Lederer, the coauthor of The Write Way. He lives in Waleska, Georgia.
Jim McLean is a freelance artist / illustrator based in Chicago, Illinois. He is a graduate of Southern Illinois University with a BA in Fine Art, and he studied advertising art and design at American Academy of Art in Chicago.
Praise For…
---
"It's a fun read, and you'll learn something." —Gary Kaufman, Salon

"Lederer's many fans won't be disappointed...mixing humor with rigor, he and coauthor Dowis have created a grammar guide for those who like their split infinitives with a side of laughter." —Library Journal

"[An] offbeat, enlightening guide to proper English usage." —Publishers Weekly