The Wake Up: Closing the Gap Between Good Intentions and Real Change (Paperback)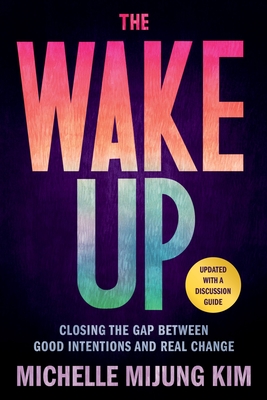 $18.99

Usually Ships in 1-5 Days
Description
---
This informative guide helps allies who want to go beyond rigid Diversity and Inclusion best practices, with real tools to go from good intentions to making meaningful change in any situation or venue.2022 NAUTILUS BOOK AWARDS GOLD WINNER
2022 NATIONAL ANTIRACIST BOOK FESTIVAL SELECTION
2021 PORCHLIGHT PERSONAL DEVELOPMENT & HUMAN BEHAVIOR BOOK OF THE YEAR
  As we become more aware of various social injustices in the world, many of us want to be part of the movement toward positive change. But sometimes our best intentions cause unintended harm, and we fumble. We might feel afraid to say the wrong thing and feel guilt for not doing or knowing enough. Sometimes we might engage in performative allyship rather than thoughtful solidarity, leaving those already marginalized further burdened and exhausted. The feelings of fear, insecurity, inadequacy are all too common among a wide spectrum of changemakers, and they put many at a crossroads between feeling stuck and giving up, or staying grounded to keep going. So how can we go beyond performative allyship to creating real change in ourselves and in the world, together?  
In
The Wake Up
, Michelle MiJung Kim shares foundational principles often missing in today's mainstream conversations around "diversity and inclusion," inviting readers to deep dive into the challenging and nuanced work of pursuing equity and justice, while exploring various complexities, contradictions, and conflicts inherent in our imperfect world. With a mix of in-the-trenches narrative and accessible unpacking of hot button issues—from inclusive language to representation to "cancel culture"—Michelle offers sustainable frameworks that guide us how to think, approach, and be in the journey as thoughtfully and powerfully as possible.   
The Wake Up
is divided into four key parts:
Grounding: begin by moving beyond good intentions to interrogating our deeper "why" for committing to social justice and uncovering our "hidden stories."
Orienting: establish a shared understanding around our historical and current context and issues we are trying to solve, starting with dismantling white supremacy.
Showing Up: learn critical principles to approach any situation with clarity and build our capacity to work through complexity, nuance, conflict, and imperfections.
Moving Together: remember the core of this work is about human lives, and commit to prioritizing humanity, healing, and community.
The Wake Up
is an urgent call for us to move together while seeing each other's full and expansive humanity that is at the core of our movement toward justice, healing, and freedom.
About the Author
---
Michelle MiJung Kim (she/her) is a queer immigrant Korean American woman writer, speaker, activist, and entrepreneur. She is CEO and co-founder of Awaken, a leading provider of interactive equity and inclusion education programs facilitated by majority people of color educators, where she has consulted hundreds of organizations and top executives across various industries, from technology to nonprofits to government agencies to universities. As a lifelong social justice advocate, Michelle has served on a variety of organizations such as the San Francisco LGBTQ Speakers Bureau, San Francisco Human Rights Commission's Advisory Committee, LYRIC nonprofit's Board of Directors, and Build Tech We Trust Coalition. Michelle currently serves on the board of Asian Americans for Civil Rights and Equality (AACRE). Her work has appeared on platforms such as Harvard Business Review, Forbes, the New York Times, and NPR, and she has been named Medium's Top Writer in Diversity three years in a row. Michelle lives in Oakland, California.
Praise For…
---
"Michelle MiJung Kim writes with boundless courage and compassion on what it takes for us to build a better world. A world that practices intersectional liberation through intergenerational healing. Social justice advocates of all backgrounds and experiences will find wisdom, insight, and affirmation in the pages of this book. It is clear, full of care, and brimming with humanity, which is what this work is all about. A must have on any book list about changing the world. The Wake Up is the perfect book for fans of Me and White Supremacy! " —Layla F. Saad, New York Times Bestselling Author of Me and White Supremacy

"A useful meditation on navigating the often-turbulent energies that flow through our moral compasses, our human hearts, our equally human organizations, and the urgent demands of social justice."—Resmaa Menakem, author of My Grandmother's Hands

"The Wake Up is a must read for every educator wondering how to lead actionable change. It transforms you as you transform your institutions." —Dania Matos, Vice Chancellor for Equity and Inclusion at University of California, Berkeley

"For those doing the work of centering inclusion and belonging, The Wake Up will strike an immediate chord. Michelle MiJung Kim is a guiding light and promising voice for strategic change." —Sheryl Evans Davis, EdD, Executive Director, San Francisco Human Rights Commission

"There are two things well-intentioned people need to become the sort of thoughtful, informed advocate that others doing social movement work look forward to collaborating with. The first is experience. The second is this book. Michelle MiJung Kim's The Wake Up is an invaluable resource for anyone looking to find or reconnect with their 'why,' center their intentions with their actions, and show up effectively to make change."—Lily Zheng, DEI strategist and consultant, & author of DEI Deconstructed

"The Wake Up is a powerful book that provides practical tips about showing up as our better selves in the fight for justice and equity. Kim's writing embodies years of experience in handling difficult conversations about white supremacy culture, as she exposes truths in a way that activates those with privilege and power to be a part of the solution."—Portland Book Review

"Challenging, empowering, and purposeful, The Wake Up makes the foundational principles of allyship, equity, and justice accessible to all readers willing to do the work. Michelle MiJung Kim is one of the strongest voices advocating for equity and justice for organizations and individuals." —Aiko Bethea, founder of RARE Coaching & Consulting

"The Wake Up by Michelle MiJung Kim should really be required reading for all who want to make lasting change—beyond having good intentions." —Ruchika Tulshyan, author of Inclusion on Purpose

"An absolute gift."—BookRiot

"Kim shares valuable ways to elevate our practice in the work of creating equitable, just spaces around us—at work, interpersonally, and within ourselves. In The Wake Up, she deeply and humbly reflects on her own journey and how we can break cycles that perpetuate harm and use our means to build a just, inclusive community."—Candice M. Morgan, Equity, Diversity & Inclusion Partner, GV

 "Michelle is a practitioner that truly walks the walk. The Wake Up is a vulnerable exploration of activism, as raw and reflective as she is. I recommend for anyone ready to be pushed from just talking towards responsible action."—Y-Vonne Hutchinson, CEO of ReadySet

"Our journey to creating connection and belonging has been inextricably linked to Michelle Kim's work with our teams. In The Wake Up, Michelle welcomes our imperfection and invites us on a journey to be become our better more awake selves."—Melissa Thomas-Hunt, former Global Head of Diversity and Belonging, Airbnb; John Forbes Distinguished Professor of Business Administration, Darden School of Business, University of Virginia

"Michelle embodies and practices the entire spectrum of solidarity work and continues to invite and challenges others to join her in deepening our collective work. Michelle's approach to the work of liberation is wrathfully compassionate and truly calls us to find our place in this movement."—Kalaya'an Mendoza [He/Him/Siya], Director of U.S. Programs at Nonviolent Peaceforce

"Move from surface-level Diversity and Inclusion to meaningful change."—Forbes

"Offers sustainable frameworks that guide how to think, approach, and be in the journey as thoughtfully and powerfully as possible."—BookPal