Blueprint, with a new afterword: How DNA Makes Us Who We Are (Paperback)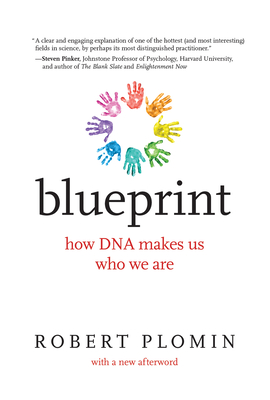 $17.95

Usually Ships in 1-5 Days
Description
---
A top behavioral geneticist makes the case that DNA inherited from our parents at the moment of conception can predict our psychological strengths and weaknesses.
In Blueprint, behavioral geneticist Robert Plomin describes how the DNA revolution has made DNA personal by giving us the power to predict our psychological strengths and weaknesses from birth. A century of genetic research shows that DNA differences inherited from our parents are the consistent lifelong sources of our psychological individuality—the blueprint that makes us who we are. Plomin reports that genetics explains more about the psychological differences among people than all other factors combined. Nature, not nurture, is what makes us who we are. Plomin explores the implications of these findings, drawing some provocative conclusions—among them that parenting styles don't really affect children's outcomes once genetics is taken into effect. This book offers readers a unique insider's view of the exciting synergies that came from combining genetics and psychology. The paperback edition has a new afterword by the author.

About the Author
---
Robert Plomin is Professor of Behavioural Genetics at the Institute of Psychiatry, Psychology, and Neuroscience at King's College London. He previously held positions at the University of Colorado Boulder and Pennsylvania State University. He was elected a Fellow of the Academy of Medical Sciences and of the British Academy for his twin studies and his groundbreaking work in behavioral genetics. He is the author or coauthor of many books, including G is for Genes: The Impact of Genetics on Education and Achievement (with Kathryn Asbury).
Praise For…
---
Plomin's Blueprint has the makings of a modern classic as one of the most direct and unapologetic takes on the topic ever written.—Boston Review—