Railroads, Art, and American Life: An Artist's Memoir (Hardcover)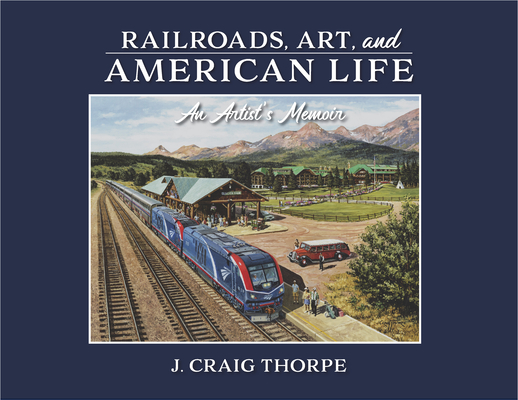 $40.00
Title is Backordered
Description
---
Explore the past, present, and future of rail travel through 30 years of one artist's work.

Once a common part of the American landscape, trains are increasingly fading from public view. Though photographs can accurately convey the details of "what, where, and when," sometimes paintings can better convey the deeper truths of an era.

Collecting more than thirty years of paintings and renderings, Railroads, Art, and American Life tells the story of rail transportation in America through the life and works of artist J. Craig Thorpe. Commissioned by companies such as Amtrak and General Electric, Thorpe's work can be found featured on items ranging from catalogs to calendars, postcards to posters. His artwork depicts not only the golden age of train travel but considers the present and looks forward to a potential future.

Featuring more than 130 color illustrations and combining history, biography, ethics, and humor, Thorpe's personal story joins with his paintings to invite the reader to relive the heyday of American rail and better understand the role of railroads in our society today.
About the Author
---
J. Craig Thorpe grew up in Pittsburgh, Pennsylvania, with the sense that rail systems were necessary for society's common good. During his bachelor's program at Carnegie-Mellon University, he pondered ways to bring his artistic and railroad interests together. Work with architects refined those skills, and one of his paintings was used by Amtrak on its 1993 calendar, which resulted in other corporate and private commissions for historical, contemporary, and future-themed rail art. Thorpe's original art can enable us to recognize characteristics inherent in rail transportation so necessary to the maintenance of a civil society. He lives in Bellevue, Washington.