Eye of the Needle: A Novel (Paperback)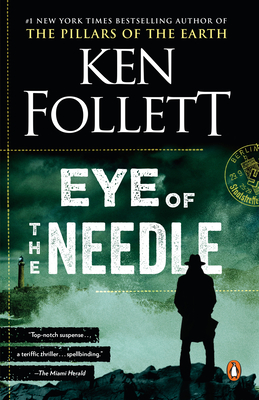 $18.00

Usually Ships in 1-5 Days
Description
---
The worldwide phenomenon from the bestselling author of The Pillars of the Earth, World Without End, A Column of Fire, and The Evening and the Morning

His code name was "The Needle." He was a German aristocrat of extraordinary intelligence—a master spy with a legacy of violence in his blood, and the object of the most desperate manhunt in history. . . . 
 
But his fate lay in the hands of a young and vulnerable English woman, whose loyalty, if swayed, would assure his freedom—and win the war for the Nazis. . . . 



About the Author
---
Ken Follett is one of the world's best-loved authors, selling more than 160 million copies of his thirty books. Follett's first bestseller was Eye of the Needle, a spy story set in the Second World War. 

In 1989 The Pillars of the Earth was published, and has since become the author's most successful novel. It reached number one on bestseller lists around the world and was an Oprah's Book Club pick.
 
Its sequels, World Without End and A Column of Fire, proved equally popular, and the Kingsbridge series has sold 38 million copies worldwide.
 
Follett lives in Hertfordshire, England, with his wife Barbara. Between them they have five children, six grandchildren, and three Labradors. 
Praise For…
---
"Top-notch suspense . . . a terrific thriller . . . spellbinding." —The Miami Herald
 
"Great . . . one of the twelve best thrillers from the last fifty years." —Rocky Mountain News

"Extraordinarily satisfying . . . a truly suspenseful novel . . . heart-stopping, nerve-freezing terror." —Los Angeles Times 

"A spy novel of the highest order." —The Baltimore Sun

"Really thrilling." —The New York Times Book Review

"An absolutely terrific thriller, so pulse-pounding, so ingenious in its plotting, and so frighteningly realistic that you simply cannot stop reading." —Publishers Weekly