Tales of Two Cities: Stories of Inequality in a Divided New York (Paperback)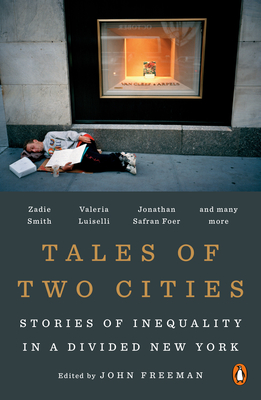 $17.00
Title is Backordered
Description
---
Thirty major contemporary writers examine life in a deeply divided New York
 
In a city where the top one percent earns more than a half-million dollars per year while twenty-five thousand children are homeless, public discourse about our entrenched and worsening wealth gap has never been more sorely needed. This remarkable anthology is the literary world's response, with leading lights including Zadie Smith, Junot Díaz, and Lydia Davis bearing witness to the experience of ordinary New Yorkers in extraordinarily unequal circumstances. Through fiction and reportage, these writers convey the indignities and heartbreak, the callousness and solidarities, of living side by side with people of starkly different means. They shed light on the subterranean lives of homeless people who must find a bed in the city's tunnels; the stresses that gentrification can bring to neighbors in a Brooklyn apartment block; the shenanigans of seriously alienated night-shift paralegals; the trials of a housing defendant standing up for tenants' rights; and the humanity that survives in the midst of a deeply divided city. Tales of Two Cities is a brilliant, moving, and ultimately galvanizing clarion call for a city—and a nation—in crisis.
About the Author
---
John Freeman is a former president of the National Book Critics Circle and was editor of Granta until 2013. He has written for the New York Times Book Review, the Los Angeles Times, the Wall Street Journal, and the Guardian (London).
Praise For…
---
"A bristling portrayal of New York in the tradition of Jacob Riis." —Guernica
 
"Conveys the reality of today's economic inequality in ways that an academic tome simply can't." —Feministing