Neuromancer (Penguin Galaxy) (Hardcover)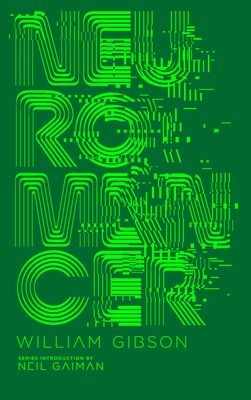 $27.00

Usually Ships in 1-5 Days
Description
---
A deluxe hardcover edition of the pioneering cyberpunk novel that predicted our obsession with the Internet—part of Penguin Galaxy, a collectible series of six sci-fi/fantasy classics, featuring a series introduction by Neil Gaiman

Winner of the AIGA + Design Observer 50 Books | 50 Covers competition

Before the Internet was commonplace, William Gibson showed us the Matrix—a world within the world, the representation of every byte of data in cyberspace. Henry Dorsett Case was the sharpest data-thief in the Matrix, until an ex-employer crippled his nervous system. Now a new employer has recruited him for a last-chance run against an unthinkably powerful artificial intelligence. With a mirror-eyed girl street-samurai riding shotgun, he's ready for the silicon-quick, bleakly prophetic adventure that upped the ante on an entire genre of fiction.

Penguin Galaxy
 
Six of our greatest masterworks of science fiction and fantasy, in dazzling collector-worthy hardcover editions, and featuring a series introduction by #1 New York Times bestselling author Neil Gaiman, Penguin Galaxy represents a constellation of achievement in visionary fiction, lighting the way toward our knowledge of the universe, and of ourselves. From historical legends to mythic futures, monuments of world-building to mind-bending dystopias, these touchstones of human invention and storytelling ingenuity have transported millions of readers to distant realms, and will continue for generations to chart the frontiers of the imagination.
 
The Once and Future King by T. H. White
Stranger in a Strange Land by Robert A. Heinlein
Dune by Frank Herbert
2001: A Space Odyssey by Arthur C. Clarke
The Left Hand of Darkness by Ursula K. Le Guin
Neuromancer by William Gibson

For more than seventy years, Penguin has been the leading publisher of classic literature in the English-speaking world. With more than 1,700 titles, Penguin Classics represents a global bookshelf of the best works throughout history and across genres and disciplines. Readers trust the series to provide authoritative texts enhanced by introductions and notes by distinguished scholars and contemporary authors, as well as up-to-date translations by award-winning translators.
About the Author
---
William Gibson is credited with having coined the term "cyberspace" and having envisioned both the Internet and virtual reality before either existed. In addition to Neuromancer, he is the author of Count Zero, Mona Lisa Overdrive, Burning Chrome, Virtual Light, Idoru, All Tomorrow's Parties, Pattern Recognition, Spook Country, Zero History, Distrust That Particular Flavor, The Peripheral, and Agency. He lives in Vancouver, British Columbia, with his wife.
 
Neil Gaiman (series introduction) is the #1 New York Times bestselling author of more than twenty books for readers of all ages, including American Gods, The Ocean at the End of the Lane, The Graveyard Book, Coraline, and the Sandman series of graphic novels. He is Professor in the Arts at Bard College.

Alex Trochut (cover designer) is an award-winning artist, graphic designer, illustrator, and typographer. He has designed for The New York Times, The Guardian, Nike, Adidas, The Rolling Stones, Coca-Cola, and Pepsi and was nominated for a 2016 Grammy Award for Best Recording Package. Born in Barcelona, Spain, he lives in Brooklyn.
Praise For…
---
"One of the coolest gifts you can get for your favorite sci-fi geek . . . You're not supposed to judge a book by its cover, but these new Penguin Galaxy hardcovers make it really hard." —Gizmodo

"Serious science fiction and fantasy readers cannot resist the classics. . . . That's what makes the Penguin Galaxy series so appealing. . . . Each of the novels here has earned their place in the halls of literary history. . . . Their small form factor and minimalist covers call out to readers and make them fun to read all over again." —Kirkus Reviews

"The quintessence of cyberpunk . . . An amazing virtuoso performance." —The Washington Post
 
"[Gibson] invented the future with Neuromancer." —Entertainment Weekly
 
"Unforgettable . . . The richness of Gibson's world is incredible." —Chicago Sun-Times
 
"Freshly imagined, compellingly detailed, and chilling in its implications." —The New York Times