Metamorphoses (Paperback)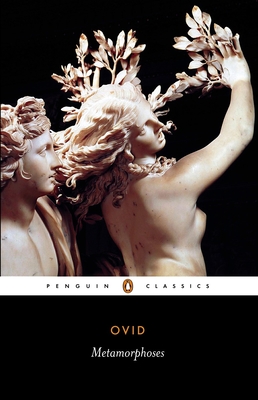 $12.00

Usually Ships in 1-5 Days
Description
---
Ovid's sensuous and witty poem, in an accessible translation by David Raeburn

In Metamophoses, Ovid brings together a dazzling array of mythological tales, ingeniously linked by the idea of transformation—often as a result of love or lust—where men and women find themselves magically changed into new and sometimes extraordinary beings. Beginning with the creation of the world and ending with the deification of Augustus, Ovid interweaves many of the best-known myths and legends of ancient Greece and Rome, including Daedalus and Icarus, Pyramus and Thisbe, Pygmalion, Perseus and Andromeda, and the fall of Troy. Erudite but light-hearted, dramatic and yet playful, Metamorphoses has influenced writers and artists throughout the centuries from Shakespeare and Titian to Picasso and Ted Hughes.

For more than seventy years, Penguin has been the leading publisher of classic literature in the English-speaking world. With more than 1,700 titles, Penguin Classics represents a global bookshelf of the best works throughout history and across genres and disciplines. Readers trust the series to provide authoritative texts enhanced by introductions and notes by distinguished scholars and contemporary authors, as well as up-to-date translations by award-winning translators.
About the Author
---
Ovid (43 BC-AD 17) was born in central Italy. He was sent to Rome where he realised that his talent lay with poetry rather than with politics. His first published work was 'Amores', a collection of short love poems. He was expelled in A.D. 8 by Emperor Augustus for an unknown reason and went to Tomis on the Black Sea, where he died.
Praise For…
---
"McCarter confronts the tricky issues associated with both the poet and his epic not only in her forthright introduction but in the translation itself, where, like an art restorer removing decades of browned varnish from an Old Master, she strips away a number of inaccuracies and embellishments that have accreted in translations over the decades and centuries, obscuring the sense of certain passages, particularly those portraying women and sexual violence… McCarter's translation reproduces Ovid's speed and clarity. Even better, she is alert to many of the sparkling verbal effects for which the poet was famous in his own time… If you didn't know she was writing about the concerns of someone who died twenty centuries ago, you'd think her subject was still alive."
—Daniel Mendelsohn, The New Yorker

"The Metamorphoses has it all: sex, death, love, violence, gods, mortals, monsters, nymphs, all the great forces, human and natural. With this vital new translation, Stephanie McCarter has not only updated Ovid's epic of transformation for the modern ear and era --- she's done something far more powerful. She's paid rigorous attention to the language of the original and brought to us its ferocity, its sensuality, its beauty, its wit, showing us how we are changed, by time, by violence, by love, by stories, and especially by power. Here is Ovid, in McCarter's masterful hands, refreshed, renewed, and pulsing with life."
—Nina MacLaughlin, author of Wake, Siren: Ovid Resung
 
"Stephanie McCarter's gorgeous verse translation of the Metamorphoses is ground-breaking not just in its refreshingly accessible approach to Ovid's syntax and formal devices but for how she reframes the controversial subjects that have made Ovid, and Ovidian scholarship, so fraught for contemporary readers. McCarter's translation understands that the Metamorphoses is a complex study of power and desire, and the dehumanizing ways that power asserts itself through and on a variety of bodies. McCarter's deft, musical, and forthright translation returns much needed nuance to Ovid's tropes of violence and change, demonstrating to a new generation of readers how our identities are always in flux, while reminding us all of the Metamorphoses' enduring relevance."
—Paisley Rekdal, author of Nightingale