Adobe Photoshop Visual QuickStart Guide (Visual QuickStart Guides) (Paperback)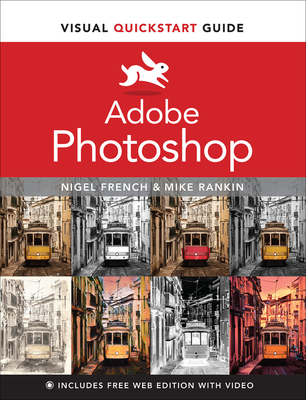 $39.99

Usually Ships in 1-5 Days
Description
---
Learn Adobe Photoshop with the Visual QuickStart Guide--the quick and easy way
Visual QuickStart Guide is an easy, visual approach to learning. Concise steps and explanations, using pictures to guide you through Adobe Photoshop get you up and running in no time. In addition, the free Web Edition of the book includes more than 4 hours of video, enhancing and expanding the information in the book while providing an alternative method for learning. Whether you're an experienced designer or an enthusiastic newcomer, Photoshop gives you all the tools you need to create almost any photographic image you can imagine, using a vast array of powerful tools and options. Learn best practices for flexible, collaborative workflows. Employ efficient production techniques to select, size, crop, mask, composite, color correct, and retouch. Enhance your images with editable type, vector artwork, and creative special effects.
This book provides you with:
An easy visual approach that uses pictures to guide you through Adobe Photoshop features and show you what to do
Concise steps and explanations that help you get up and running in no time
The best content and value around, page for page
Access to the Web Edition, a free online version of the book with embedded video
About the Author
---
Nigel French is a graphic designer, photographer, author, and teacher living in Lewes, UK. He is the author of InDesign Type, co-author of The Type Project Book (with Hugh D'Andrade), and a LinkedIn Learning Instructor with many courses on design and typography. Mike Rankin is an author, speaker, designer, and editor who has spent more than 25 years using and teaching Adobe Photoshop while producing work for books, magazines, newspapers, and websites. He is the Editor-in-Chief of CreativePro Magazine and an Instructor for LinkedIn Learning with many popular video courses on Adobe software. He resides in Massachusetts and works alongside a pair of Boston Terriers who remind him to get up from the computer and take lots of walks outside.