Retail 101: The Guide to Managing and Marketing Your Retail Business (Paperback)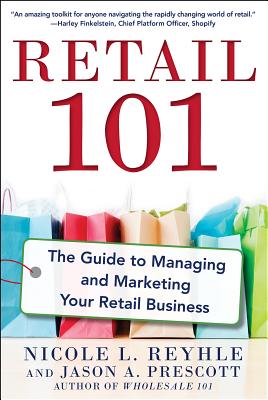 $26.00

Usually Ships in 1-5 Days
Description
---
YOU
CAN
COMPETE WITH THE BIG-BOX STORES
Whether you're a seasoned merchant or retail newbie, Retail 101 is the guide you need to successfully manage, market, and grow your retail business, brick and mortar or online. From two of today's top retail thought leaders, Retail 101 serves both as a strategic planning guide and as a hands-on practical reference that answers your critical questions along the way.
"The ultimate how-to guide for independent retailers. Each chapter addresses a vital ingredient for retail success, including helpful ideas, useful lists, and action guides." -- Ted Teele, Chief Executive Officer, SnapRetail
"While small retailers may feel like an endangered species, those who read this practical guidebook to retail survival will come away confident that they have unique assets they can turn into sustainable profits." -- Molly Love Rogers, President and CEO of Internet Retailer
"If you've ever felt alone or frustrated building your business, read this book today " -- Joe Abraham, founder of BOSI Global, author of Entrepreneurial DNA
About the Author
---
NICOLE LEINBACH REYHLE is the founder of Retail Minded, the nation's only retail lifestyle publication. She is also the cofounder of the Independent Retailer Conference. JASON A. PRESCOTT, CEO of JP Communications, Inc., is the innovator behind the top wholesale and manufacturer trade platforms TopTenWholesale.com and Manufacturer.com. He is the author of Wholesale 101.