Fizz: Harness the Power of Word of Mouth Marketing to Drive Brand Growth (Hardcover)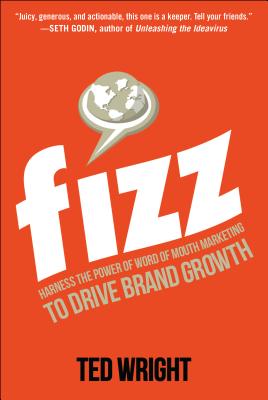 $30.00

Usually Ships in 1-5 Days
Description
---
DRAMATICALLY IMPACT YOUR BOTTOM LINE WITH A POWERFUL WOMM CAMPAIGN
"Word of mouth marketing has always existed. We've just found a better and more efficient way to do it." -- Ted Wright
It may not be the oldest profession, but word of mouth is the oldest form of marketing. It's also the most effective. Now, however, it's being executed in ways that are methodical, replicable, and consistent. In this groundbreaking guide, Ted Wright, WOMM pioneer and founder of the marketing firm Fizz, reveals everything you need to know to create, drive, measure, and leverage word of mouth for maximum impact on the bottom line.
Learn how to:
Develop and test your brand's stories for maximum word of mouth impact
Build a reliable communications network to deliver your message
Harness the incredible power of Big Data for profit-generating WOMM campaigns
Find, engage, and train influencers to promote your brand
Measure your campaign's success with accurate analytics
Along the way, you'll find out how Wright used the very same methods to breathe new life into what was once the tired old brand of Pabst Blue Ribbon.
You'll discover how he dramatically expanded the market for Chocolate Milk. You'll read how he orchestrated the turnaround growth of the BISSELL sweeper.
Best of all, you'll learn which techniques work for your needs, and you'll have the tools to begin a WOMM campaign right away.
Today's consumer is too sophisticated to respond in a meaningful way to intrusive, interruptive, or TV-centric media models. A dispatch from the front lines of cutting-edge marketing, Fizz is a one-stop guide to making your brand the talk of the town. Your company's best friends are already out there. Use Fizz to find, engage, and leverage them.
PRAISE FOR FIZZ:
"Juicy, generous, and actionable, this one is a keeper. Tell your friends." -- Seth Godin, author of Unleashing the Ideavirus
"A great read. Brand managers seeking both practical advice and insight on the realities of modern marketing need look no further than Fizz." -- James M. Kilts, former chairman and CEO of The Gillette Company
"Ted's actionable truths ('for influencers, sharing stories is an expression of love') make this excellent book the guidebook for brand professionals interested in word of mouth marketing. Buy it today, and start growing your business faster tomorrow." -- Sam Calagione, president and founder of Dogfish Head Craft Brewery
"Ted Wright is the foremost thought leader on word of mouth marketing, and Fizz is the bible in this area. . . . If you want to truly understand how to harness the power of people talking, this book better head up your musthave reading list." -- Dr. Americus Reed II, Whitney M. Young Jr. Professor of Marketing at the Wharton School of the University of Pennsylvania
"The best and most practical book about word of mouth marketing, ever. Fizz combines real-world case studies and smart counsel with discussion of the theories and research that build understanding of WOMM principles. It's effervescent " -- Jay Baer, New York Times bestselling author of Youtility
About the Author
---
Ted Wright is the CEO of Fizz, the pioneering word of mouth marketing firm. He has contributed to several consumer revolutions in the U.S.--including the resurgence of Pabst Blue Ribbon among urban hipsters and the adoption of Chocolate Milk among athletes--and he's helped take his clients, such as Bissell, Intuit, AT&T, and Intel, among many others, to the next level and beyond.