The Ikea Edge: Building Global Growth and Social Good at the World's Most Iconic Home Store (Hardcover)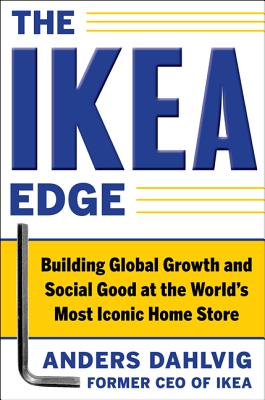 $32.00

Usually Ships in 1-5 Days
Description
---
Praise for The IKEA Edge
"A very good book from a talented business leader that links] values, culture, and the achievement of business and social objectives together. I have read it now three times and learned something from every passage."
--Michael Spence, recipient of the Nobel Memorial Prize in Economic Sciences, 2001
"With Anders Dahlvig's recommendations, we could solve many of the world's problems by persuading the big multinationals to change their Memorandum and Articles of Association. Big business working in the interests of humanity would be a powerful tool."
--Gordon Roddick, cofounder of The Body Shop
"The IKEA Edge is a fascinating case study of an entrepreneurial company's growth to maturity. Anders Dahlvig is incisive and surprisingly straightforward in sharing the IKEA story. As a fourth-generation family business owner, I recognize the inherent paradox of building a 'good, ' value-driven company and managing for profit. Anders Dahlvig proves it can be done."
--Antonia Axson Johnson, Chairperson, Axel Johnson AB
About the Book:
With Anders Dahlvig at the helm from 1999 to 2009, the furniture giant IKEA averaged 11 percent yearly sales growth and annual operating profits in excess of 10 percent. The company hired more than 70,000 new employees and opened new stores around the world--all while maintaining its reputation as one of the world's best corporate citizens.
In The IKEA Edge, Dahlvig tells the story of how IKEA matured from an entrepreneurial startup to a leader in the furniture industry. He recounts his 26-year career at the company and what he learned along the way. In his rise from store manager to president, Dahlvig developed the unique vision he relied upon to lead IKEA through good times and bad--by combining traditional business goals like profit and growth with the progressive interests of social responsibility and environmental stewardship. Dahlvig proves that these objectives, which are usually viewed as polar opposites, can actually work wonders together.
The IKEA Edge serves as an expansive case study for "doing good business while being a good business." Dahlvig clearly lays out the cornerstones that support IKEA: a vision of social responsibility; market leadership with a balanced global portfolio; differentiation through control of the value chain; and building for the long term--four principles that can be applied in any business, in any industry. social and business agenda--and it continues to grow, even during the worst global recession in history. In a time when the public's trust of business has hit bottom, such an approach to business is more critical than ever.
A combination of personal memoir, call to action, and strategic vision, The IKEA Edge provides the inspiration and information you need to develop a social-good/good-business agenda for your own company. Public trust, brand recognition, customer loyalty, and a world-class reputation will soon follow.
About the Author
---
Anders Dahlvig is the former president and CEO of IKEA. In 2006, he received the U.S. Foreign Policy Association's Global Social Responsibility Award, and in 2009 he earned the Oslo Business for Peace Award. Dahlvig is a regular keynote speaker at international conferences, such as GDI International Conference on Retailing, UN Global Compact Summit, IVL Swedish Environmental Research Institute, Greenpeace Annual Conference, ECR Europe, and World Retail Congress.