Biology Demystified (Paperback)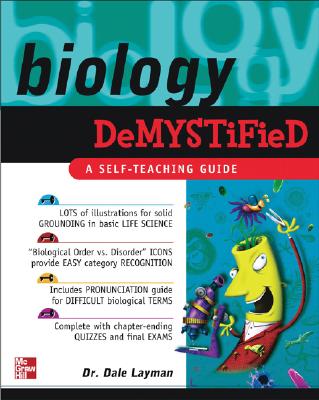 $28.00

Usually Ships in 1-5 Days
Description
---
Say goodbye to dry presentations, grueling formulas, and abstract theory that would put Einstein to sleep--now there's an easier way to master chemistry, biology, trigonometry, and geometry. McGraw-Hill's
Demystified Series
teaches complex subjects in a unique, easy-to-absorb manner and is designed for users without formal training, unlimited time, or genius IQs.
Organized like self-teaching guides, they come complete with key points, background information, questions at the end of each chapter, and final exams. There's no better way to gain instant expertise
ABOUT BIOLOGY DEMYSTIFIED:
* A college biology professor presents the fundamental facts, concepts, and principles of biology in an attractive and amusing framework
* Great for anyone with an interest in biology, biotechnology, medicine, or the environment
* Coverage includes both the anatomy and physiology of organisms as well as ecology and environmental relationships between organisms
* Includes a pronunciation guide for difficult biological terms
About the Author
---
Dr. Dale Layman (Joliet, IL) is a Professor of Biology and Human Anatomy & Physiology at Joliet Junior College. A resident of Joliet, Illinois, Dr. Layman is a frequent author with many international honors and awards. He has more than 28 years of experience in the field of biological sciences.