Laugh-Out-Loud: Belly Laughs: A My First LOL Book (Laugh-Out-Loud Jokes for Kids) (Board book)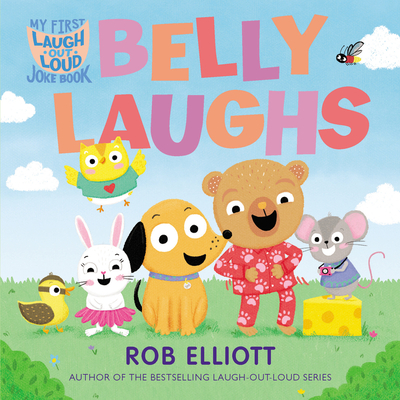 Description
---
The #1 bestselling Laugh-Out-Loud Jokes for Kids series now brings the giggles for baby's very first belly laughs with this beautifully illustrated, hilariously funny board book!
Rob Elliott's Laugh-Out-Loud Jokes for Kids series has sold more than 5 million copies! Now his fun-for-the-whole-family collection has been perfectly adapted for the youngest readers.
The board book format creates perfect comedic format for little ones! With each joke is a hilarious drawing to match the punchline, making the book visually fun and perfect for non-readers.
With nearly a dozen delightful puns from laugh-master Rob Elliott, you'll giggle along with your little one at this collection of heartwarming jokes, with colorful, kid-friendly illustrations by Zoe Waring.
The Laugh-Out-Loud books are a household name, and now everyone can join in the fun! The new board book line includes everything readers love about the LOL brand, along with fun, colorful drawings to make the jokes even more fun for little ones.
About the Author
---
Rob Elliott is the bestselling author of
Laugh-Out-Loud Jokes for Kids
,
More Laugh-Out-Loud Jokes for Kids
,
Laugh-Out-Loud Spooky Jokes for Kids, Laugh-Out-Loud Christmas Jokes for Kids, Laugh-Out-Loud Holiday Jokes for Kids, Laugh-Out-Loud Animal Jokes for Kids
,
Laugh-Out-Loud Doodles for Kids
, and
Knock-Knock Jokes for Kids
. His popular joke books have sold more than 2.5 million copies. Rob has been a publishing professional for more than twenty years. He lives in West Michigan, where in his spare time he enjoys laughing out loud with his wife and five children. You can visit him at www.laughoutloudjokesforkids.com.
Zoe Warring comes from London, England, where she loves to doodle—especially pictures of adorable animals. She says: "I'm slightly obsessed with cute animals and love creating engaging characters that help tell wonderful stories." One of the animals she loves drawing most is the dachshund. Why? Because it makes her think about the advantages and disadvantages of being the longest sausage dog in the world! Zoe can be found at her website, www.zoewarring.co.uk.