The Reptiles Coloring Book: A Coloring Book (Coloring Concepts) (Paperback)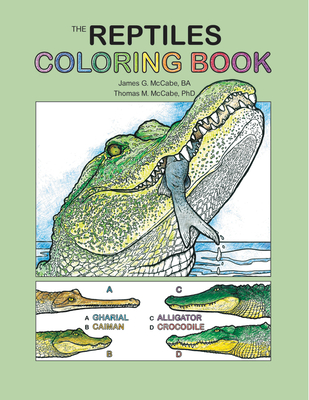 $24.99
Title is Backordered
Description
---
The Reptiles Coloring Book is the ideal resource for reptile enthusiasts, students interested in zoology and herpetology, and the more than 1.8 million households who care for a reptile pet! 
A comprehensive compendium of both known and obscure reptiles, including turtles, crocodilians, snakes, lizards, tuataras, as well as their extinct relatives, this fun and educational coloring book uses Coloring Concepts Inc.'s unique methodology for kinesthetic learning—physically interacting with a subject to facilitate understanding. It includes more than 85 colorable illustrations—each accompanied by a short fact-filled description—that make it easy to learn about reptiles and their reproduction, anatomy, defensive behaviors, venom mechanisms, habitats, hibernation, and much more.
Complete with a table of contents, a handy taxonomy of reptiles, a glossary, index, and full-color photos to reference as you color, The Reptiles Coloring Book is a unique and interactive activity book sure to enthrall artists and learners of all ages.
About the Author
---
Coloring Concepts Inc. ("CCI"), a California Corporation, has been producing science-based educational coloring books since 1982 for the higher educational market. Over six million books have been sold in the U.S. and millions more around the world. They have been translated into thirteen languages. CCI's products include the following coloring books: Anatomy, Human Brain, Human Evolution, Biology, Zoology, Botany, Microbiology, and Marine Biology. The books are used by students in higher education, health and science professionals, homeschoolers, and more recently by the lifelong learner.