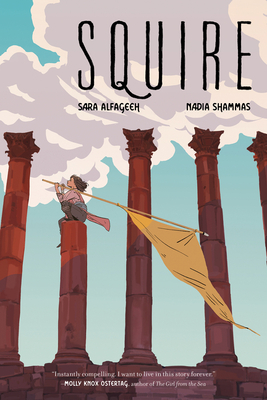 $18.99

Usually Ships in 1-5 Days
March/April 2022 Kids Indie Next List
---
"A fabulous graphic novel set in a richly-drawn world, Squire explores identity, prejudice, and honor in a fun, heartfelt, rollicking adventure. I loved every page, and I hope to see many more books from Nadia Shammas and Sara Alfageeh!"
— Rebecca Speas, One More Page Books, Arlington, VA
Description
---
From two incredible rising talents comes the fantasy graphic novel Molly Knox Ostertag calls "instantly compelling." A New England Book Award and Harvey Award winner!
Aiza has always dreamt of becoming a Knight. It's the highest military honor in the once-great Bayt-Sajji Empire, and as a member of the subjugated Ornu people, Knighthood is her only path to full citizenship. Ravaged by famine and mounting tensions, Bayt-Sajji finds itself on the brink of war once again, so Aiza can finally enlist in the competitive Squire training program. 
It's not how she imagined it, though. Aiza must navigate new friendships, rivalries, and rigorous training under the unyielding General Hende, all while hiding her Ornu background. As the pressure mounts, Aiza realizes that the "greater good" that Bayt-Sajji's military promises might not include her, and that the recruits might be in greater danger than she ever imagined.
In this breathtaking and timely story, Aiza will have to choose, once and for all: loyalty to her heart and heritage, or loyalty to the Empire.
About the Author
---
Nadia Shammas is a Palestinian American writer from Brooklyn, NY. She's best known for creating CORPUS: A Comic Anthology of Bodily Ailments as well as being the writer of Ms. Marvel: Stretched Thin. Her work often focuses on identity, memory, and decolonizing genre tropes. When she's not writing, she's trying to perfect her cold brew recipe and win the love of her cats, Lilith and Dash. Visit her online at www.nadiashammas.com 
Sara Alfageeh is a Jordanian American illustrator and creative director from Boston. She's passionate about history, nuances in visual storytelling, and the spaces where art and identity intersect. She's known for her work for Marvel Comics, Star Wars, and children's publishing. While that's cool and all—she really just wants to draw girls with swords. Visit her online at www.sara-alfa.com 
Sara Alfageeh is a Jordanian American illustrator and creative director from Boston. She's passionate about history, nuances in visual storytelling, and the spaces where art and identity intersect. She's known for her work for Marvel Comics, Star Wars, and children's publishing. While that's cool and all—she really just wants to draw girls with swords. Visit her online at www.sara-alfa.com 
Praise For…
---
"Instantly compelling. I want to live in this story forever." — Molly Ostertag, author of The Girl From the Sea
"An utterly gorgeous and heartfelt adventure that examines the roots of empire and the fables invented to maintain it."  — S.A. Chakraborty, author of The City of Brass
"A sweeping, gorgeous tale of tenacity and friendship, Squire makes you want to fight for a better world."  — G. Willow Wilson, author of The Bird King
"Loving families, conflicted loyalties and fierce hope animate this warm, tender exploration of friendship and belonging within the devouring bounds of empire, by two wonderfully talented creators."  — Amal El-Mohtar, author of This is How You Lose the Time War
"Squire is the fantasy epic we need right now—something wildly new that still manages to feel like an old favorite. Put simply, Shammas and Alfageeh are the bright future of comics." — Saladin Ahmed, author of Throne of the Crescent Moon
"Deftly tackles complex subjects such as war, loyalty, and imperialism, all made humane and relatable through a young, compelling protagonist." — ALA Booklist (starred review)
"Stands out in a graphic novel field long dominated by white authors and protagonists. Aiza's journey will leave readers with much to contemplate long after they close the book." — Bulletin of the Center for Children's Books (starred review)
"Epic. Shammas uses Aiza's determined voice to examine themes of assimilation and passing privilege through the ways in which the Bayt-Saiji Empire simultaneously divides and homogenizes its peoples." — Publishers Weekly (starred review)
"A fantasy adventure filled with poignant illustrations, silly banter between friends and fast-paced battle scenes. Worth lingering over." — BookPage (starred review)
"An engaging graphic novel that examines the nature of prejudice and the cost of imperial expansion." — Kirkus Reviews
"With its high stakes and robust characters, Squire feels like a new take on Avatar: The Last Airbender, minus the magic." — Horn Book Magazine
"Stunning. An action-packed graphic novel in a beautifully depicted world, sure to inspire and engage." — School Library Journal