The Inside Game: Bad Calls, Strange Moves, and What Baseball Behavior Teaches Us About Ourselves (Paperback)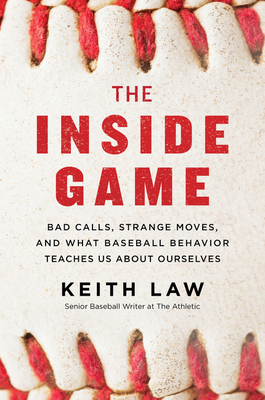 $16.99
Title is Backordered
Description
---
In this groundbreaking book, Keith Law, baseball writer for The Athletic and author of the acclaimed Smart Baseball, offers an era-spanning dissection of some of the best and worst decisions in modern baseball, explaining what motivated them, what can be learned from them, and how their legacy has shaped the game.

For years, Daniel Kahneman's iconic work of behavioral science Thinking Fast and Slow has been required reading in front offices across Major League Baseball. In this smart, incisive, and eye-opening book, Keith Law applies Kahneman's ideas about decision making to the game itself.
Baseball is a sport of decisions. Some are so small and routine they become the building blocks of the game itself—what pitch to throw or when to swing away. Others are so huge they dictate the future of franchises—when to make a strategic trade for a chance to win now, or when to offer a millions and a multi-year contract for a twenty-eight-year-old star. These decisions have long shaped the behavior of players, managers, and entire franchises. But as those choices have become more complex and data-driven, knowing what's behind them has become key to understanding the sport. This fascinating, revelatory work explores as never before the essential question: What were they thinking?
Combining behavioral science and interviews with executives, managers, and players, Keith Law analyzes baseball's biggest decision making successes and failures, looking at how gambles and calculated risks of all sizes and scales have shaped the sport, and how the game's ongoing data revolution is rewriting decades of accepted decision making. In the process, he explores questions that have long been debated, from whether throwing harder really increases a player's risk of serious injury to whether teams actually "overvalue" trade prospects.
Bringing his analytical and combative style to some of baseball's longest running debates, Law deepens our knowledge of the sport in this entertaining work that is both fun and deeply informative.
About the Author
---
Keith Law is a senior baseball writer at The Athletic, and before joining The Athletic, he was a senior baseball writer for ESPN Insider.  Previously he was also special assistant to the general manager for the Toronto Blue Jays, handling all statistical analysis, and he wrote for Baseball Prospectus. He lives in Delaware. 
Praise For…
---
"If it has long been a mystery why so many writers have argued that baseball explains life, Keith Law's The Inside Game addresses its corollary: why life explains baseball. Inside these pages the senior baseball writer for the Athletic website examines the assumptions that animate baseball—both on the field and in the opinionated realms of fandom." — Wall Street Journal
"Law's take is as entertaining as it is informative. This intelligent and accessible work is a grand slam." — Publishers Weekly (starred review)
"In a market saturated with baseball books, Law's stands out by exploring key decisions in the game.  Highly recommended for serious followers of baseball and readers interested in how statistical analysis and trends can be applied in any sport."  — Library Journal
"Smart Baseball is an engaging account of the evolution of baseball metrics. . . . His experience and insight make him uniquely qualified to answer the driving question in MLB today: how best to account for everything that happens on the field. This look is a must-read for the serious fan." — Billy Beane, Executive Vice President of Baseball Operations, Oakland A's, on Smart Baseball
"Law provides necessary insight into how front offices have come to evaluate talent. . . . Smart Baseball is an essential and accessible primer on how data and analytics shape America's Pastime, and where it's headed. " — Sean Doolittle, pitcher, Oakland A's, on Smart Baseball
"No flawed statistic is safe from Keith's insights in this clear-eyed, data driven tour of the bases. Smart Baseball gives us a preview of the future as Keith introduces the stats that really matter in a way that all fans will enjoy." — Molly Knight, author of the New York Times bestseller The Best Team Money Can Buy, on Smart Baseball
"Smart Baseball can help any baseball follower evolve along with the game. It provides an insightful and thorough look at how this great game is being viewed now and into the future. Definitely a great read for anyone who loves baseball." — A.J. Hinch, manager, Houston Astros, on Smart Baseball
"Mr. Law's book will increase any fan's enjoyment of the sport." — Wall Street Journal on Smart Baseball
"A new perspective on the intricacies of the sport…smart and savvy, The Inside Game is a gem." — The Main Edge