To Kill a Mockingbird: A Graphic Novel (Hardcover)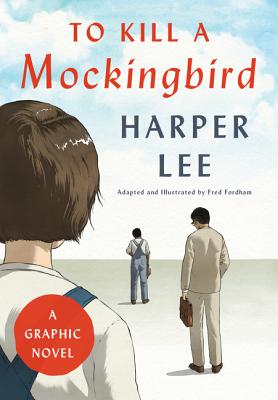 $23.99

Usually Ships in 1-5 Days
Description
---
"This gorgeously rendered graphic-novel version provides a new perspective for old fans but also acts as an immersive introduction for youngsters as well as any adult who somehow missed out on the iconic story set in Maycomb, Alabama."--USA Today
A beautifully crafted graphic novel adaptation of Harper Lee's beloved, Pulitzer Prize–winning American classic, voted America's best-loved novel in PBS's Great American Read.
"Shoot all the bluejays you want, if you can hit 'em, but remember it's a sin to kill a mockingbird."
A haunting portrait of race and class, innocence and injustice, hypocrisy and heroism, tradition and transformation in the Deep South of the 1930s, Harper Lee's To Kill a Mockingbird remains as important today as it was upon its initial publication in 1960, during the turbulent years of the Civil Rights movement.
Now, this most beloved and acclaimed novel is reborn for a new age as a gorgeous graphic novel. Scout, Jem, Boo Radley, Atticus Finch, and the small town of Maycomb, Alabama, are all captured in vivid and moving illustrations by artist Fred Fordham.
Enduring in vision, Harper Lee's timeless novel illuminates the complexities of human nature and the depths of the human heart with humor, unwavering honesty, and a tender, nostalgic beauty. Lifetime admirers and new readers alike will be touched by this special visual edition that joins the ranks of the graphic novel adaptations of A Wrinkle in Time and The Alchemist.
About the Author
---
Harper Lee was born in 1926 in Monroeville, Alabama. She is the author of the acclaimed To Kill a Mockingbird and Go Set a Watchman, which became a phenomenal #1 New York Times bestseller when it was published in July 2015. Ms. Lee received the Pulitzer Prize, the Presidential Medal of Freedom, and numerous other literary awards and honors. She died on February 19, 2016.
Fred Fordham is an artist and author of multiple acclaimed graphic novels. He most recently adapted and illustrated the graphic novel versions of Aldous Huxley's Brave New World ("Brilliant. . . . a book that will keep your bedside light burning long into the night." —The Guardian) and Harper Lee's To Kill a Mockingbird ("Gorgeously rendered" —USA Today). He has also designed and drawn several other comics and produced illustrations for The Phoenix, The Guardian, Aces Weekly, Delcourt, and others. He currently resides in London. Find Fred online at https://www.fredfordham.com/
Praise For…
---
"This gorgeously rendered graphic-novel version provides a new perspective for old fans but also acts as an immersive introduction for youngsters as well as any adult who somehow missed out on the iconic story set in Maycomb, Alabama." — USA Today
"This thoughtfully crafted interpretation of Lee's classic reintroduces readers to the Finch family.. Fordham visually establishes the world of Maycomb County—with all its unspoken laws pertaining to race, class, and family—with a sure hand." — Publishers Weekly
"Like Lee's spare novel, Fordham's graphic adaptation leaves us to ponder what is unsaid, what is unseen, what lies in the subtext. A moving new take on a familiar story." — Booklist
"The economic and racial disparities, the blinders that "civilized" society stubbornly clings to, the realization that justice for all can never exist without equality for all—these are vividly portrayed not only via Lee's words but also by Fordham's art, making this graphic adaptation of To Kill a Mockingbird a worthy partner to the original, providing a clarion call for civility, equality, and justice for all." — New York Journal of Books