Action Presidents #3: Theodore Roosevelt! (Hardcover)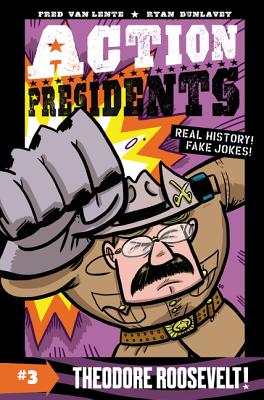 Other Books in Series
This is book number 3 in the Action Presidents series.
Description
---
Where the history is real and the jokes are fake!
The third Action Presidents brings the committed conservationist and resolute rough rider Theodore Roosevelt to life.
Wimpy Kid meets the Who Was… series in these hilarious new graphic novels from New York Times bestselling comic book author Fred Van Lente and award-winning cartoonist Ryan Dunlavey.
We all know that Theodore Roosevelt protected the environment and was the inspiration for the teddy bear. But did you also know that he was made fun of for wearing glasses, wrote adventure books, and once gave a speech with a gunshot wound in his chest?
U.S. history comes to life like never before! Historically accurate and highly entertaining, Action Presidents is perfect for curious minds. With timelines, maps, charts, and more, readers will keep learning and chuckling until the last page.
The critics agree that the Action Presidents should not be missed. "A delightful, educational spin on history—and plenty of jokes," said School Library Journal of the first book in the series, George Washington. "Sheer joy," praised Booklist in a starred review.