Action Presidents #2: Abraham Lincoln! (Hardcover)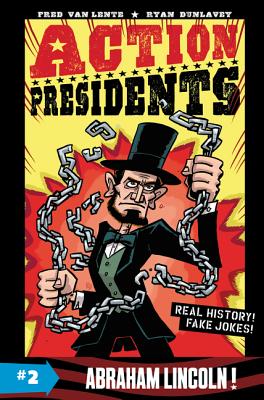 $9.99
Title is Backordered
Other Books in Series
This is book number 2 in the Action Presidents series.
Description
---
Where the history is real and the jokes are fake!
The second Action Presidents book is just as fun—and funny—as the first. Legendary lumberjack and paramount president Abraham Lincoln practically jumps off the page.
Wimpy Kid meets the Who Was… series in these hilarious new graphic novels from New York Times bestselling comic book author Fred Van Lente and award-winning cartoonist Ryan Dunlavey.
Did you know that Lincoln never went to college, and that he kept important documents in his famous top hat? Even the most reluctant reader won't be able to put this graphic novel down, and they'll learn about an American icon along the way.
U.S. history comes to life like never before! Historically accurate and highly entertaining, Action Presidents is perfect for curious minds. With timelines, maps, charts, and more, readers will keep learning until the last page.
The critics agree that the Action Presidents should not be missed. "A delightful, educational spin on history—and plenty of jokes," said School Library Journal of the first book in the series, George Washington. "Sheer joy," praised Booklist in a starred review.
About the Author
---
Fred Van Lente is the New York Times bestselling author of comic books like Cowboys & Aliens and Marvel Zombies. He lives in Brooklyn, like every other writer on the planet (by law), with his wife, Crystal, and some mostly ungrateful cats. His previous funny nonfiction comics with Ryan were Action Philosophers! (named a YALSA Great Graphic Novels for Teens by the American Library Association) and The Comic Book History of Comics (which Fred's mom really likes). He does not own a time machine but will be the first on line to buy one as soon as someone gets around to inventing them.
Full-time award-winning cartoonist and part-time scout leader Ryan Dunlavey spends every day and most nights drawing cool and fun stuff for the worlds most charming and attractive art directors. He's also the artist of the graphic novels Action Philosophers!, The Comic Book History of Comics (both with Fred Van Lente), Dirt Candy: A Cookbook (with chef Amanda Cohen), and the comic strip Lil Classix (with Grady Hendrix). On the rare occasions when he's not in his 100 percent cat-free home studio (allergies), he can be spotted with his wife, Liza, as they wrangle their two children on adventures in and around New York City.