What I Had Before I Had You: A Novel (Paperback)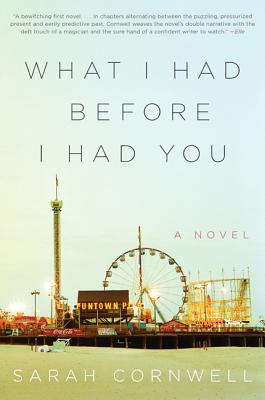 $14.99

Usually Ships in 1-5 Days
Description
---
A woman must face the truth about her past in this luminous, evocative novel of parents and children, guilt and forgiveness, memory and magical thinking.
Olivia Reed was fifteen when she left her hometown of Ocean Vista on the coast of New Jersey. Two decades later, divorced and unstrung, she returns with her teenage daughter, Carrie, and nine-year-old son, Daniel, recently diagnosed with bipolar disorder. Distracted by thoughts of the past, Olivia fails to notice when Daniel disappears from her side. Her frantic search for him sparks memories of the summer of 1987, when she exploded out of the cocoon of her mother's fierce, smothering love and into a sudden, full-throttle adolescence, complete with dangerous new friends, first love, and a rebellion so intense that it utterly recharted the course of her life.
Olivia's mother, Myla, was a practicing psychic whose powers waxed and waned along with her mercurial moods. Myla raised Olivia to be a guarded child, and also to believe in the ever-present infant ghosts of her twin sisters, whom Myla took care of as if they were alive—diapers, baby food, an empty nursery kept like a shrine. At fifteen, Olivia saw her sisters for the first time, not as ghostly infants but as teenagers on the beach. But when Myla denied her vision, Olivia set out to learn the truth—a journey that led to shattering discoveries about herself and her family.
Sarah Cornwell seamlessly weaves together the past and the present in this riveting debut novel, as she examines the relationships between mothers and daughters, and the powerful forces of loss, family history, and magical thinking.
About the Author
---
Sarah Cornwell grew up in Narberth, Pennsylvania. Her fiction has appeared in the Pushcart Prize Anthology, Missouri Review, Mid-American Review, Gulf Coast, and Hunger Mountain, among others, and her screen- writing has been honored with a Humanitas Prize. A former James Michener Fellow at the University of Texas at Austin, Sarah has worked as an investigator of police misconduct, an MCAT tutor, a psychological research interviewer, and a toy seller. She lives in Los Angeles.
Praise For…
---
"[A] bewitching first novel. . . . In chapters alternating between the puzzling, pressurized present and eerily predictive past, Cornwell weaves the novel's double narrative with the deft touch of a magician and the sure hand of a confident writer to watch." — Elle
"Twining Olivia's teenage past with her grown-up present, Cornwell tells a sensitive, clear-eyed, and ever so slightly supernatural story of a family shaped by mental illness." — Boston Globe
"An incandescent debut by turns thrilling and meditative; part coming of age novel, part exploration of the fragility and complexity of love and family. Sarah Cornwell is a writer to be celebrated and watched." — Philipp Meyer, author of The Son
"Captivating. . . . Depth of insight, dreamy prose, and an engrossing storyline mark this wonderful debut." — Publishers Weekly (starred review)
"This debut novel blew me away with the beauty of its language and the honesty of its narrator. . . . The reality of living with a parent with mental illness, and how it impacts a child, is heartbreakingly beautiful in Cornwell's capable hands." — Jodi Picoult Lists Her Favorite Reads of 2014, Amazon
"Sarah Cornwell has a brilliant eye for the telling detail, and a wonderfully original way of embodying family history. I was captivated by her memorable characters and the perfectly paced revelations of their surprising relationships." — Andrea Barrett, author of Archangel and The Voyage of the Narwhal
"This is a remarkable debut by an award-winning short story writer; Cornwell's psychological study of the stormy relationships in one particular family is engrossing and insightful." — Library Journal
"Sarah Cornwell's first novel is as unnerving and authoritative as Hilary Mantel's Beyond Black. This is a beautifully written book, bold and wounding. Read it and you will never look at the Jersey Shore in quite the same way again." — James Magnuson, author of Famous Writers I Have Known
"Cornwell's first novel is an authentic and artful coming-of-age story that is uniquely multigenerational. . . . With great attention to detail and a smooth flow between past and present, this emotionally charged narrative is as memorable as it is compelling." — Booklist (starred review)
"Gorgeously crafted, Cornwell's tale shimmers and shimmies with nimble dialogue and poignantly flawed characters. . . . Grafting magical thinking onto gimlet-eyed acceptance, Cornwell's debut novel enchants." — Kirkus Reviews
"Cornwell's debut novel is equal parts page-turner and dreamy meditation on the nature of mental illness. . . . An important exploration of the deepest philosophical inquiries into the nature of existence, family, and love. I highly recommend." — Antonya Nelson, author of Bound
"Only a few writers can genuinely capture that stormy period between childhood and adulthood and Sarah Cornwell is one of them. . . . The result is an exhilarting, hurtling, unstoppable ride for the reader." — Margot Livesey, author of The Flight of Gemma Hardy
"[Cornwell] handles the delicate subject of mental illness and the realities of living with a mood disorder with compassion and grace. . . . [A] thoughtful and powerful debut." — BookPage
"Cornwell's debut is a dreamy trip to the past with one foot planted in the present. . . . This haunting tale of a childhood distorted by trauma, myth and devotion will stay with readers long after they've turned the last page." — Romantic Times
"An engaging debut. . . . Well-paced, with enough tension to be absorbing, What I Had Before I Had You is replete with lyrical turns of phrase and spot-on details." — New Jersey Monthly
"If reading literary fiction truly increases one's emotional intelligence (as a recent study suggests), this lively debut novel by Sarah Cornwell has much to contribute. . . . The novel involves deft plot twists and last-minute revelations that add to the suspense." — Dallas Morning News
"You're reading, you're enthralled by the story and the characters and the Jersey Shore in the summer, and sprinkled throughout are these wonderful sentences that make you stop, simple yet resonant like the clear ping of crystal stemware." — The Rumpus
"Sarah Cornwell's debut novel meshes past and present, mothers and children, and magic and memory to give readers the kind of book they can be glad exists." — Daily Candy
"The subtler workings of past trauma on present-day lives underscore Sarah Cornwell's psychological page-turner." — Vogue.com
"Cornwell skillfully navigates themes of mental illness, memories, and identity with carefully chosen prose. . . . [An] impressive first novel." — The Austin Review