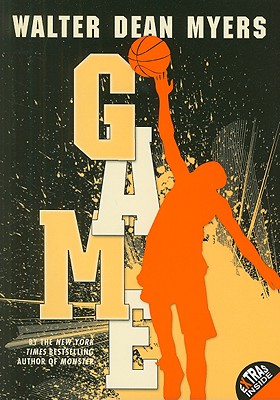 Description
---
This thrilling basketball story from New York Times bestselling author Walter Dean Myers is a strong choice for independent reading and sharing in the classroom. Thought-provoking and packed with court action, Game is a winner.
Drew Lawson knows basketball is taking him places. It has to, because his grades certainly aren't. But lately his plan has run squarely into a pick. Coach has handed the ball to another player—Tomas, a new guy from Europe—and Drew won't let anyone disrespect his game. Just as his team makes the playoffs, Drew must come up with something big to save his fading college prospects. It's all up to Drew to find out just how deep his game really is.
"There's plenty of basketball here, but, as in any good sports novel, more is going on than the sport; life is the game, and this is a sensitive portrait of a likable young man, his family, city and dreams." (Kirkus starred review)
"In this story of a teen who dreams of making it big in the NBA, Myers returns to the theme that has dominated much of his serious fiction: How can young black urban males negotiate the often-harsh landscape of their lives to establish a sense of identity and self-worth? As always, Myers eschews easy answers." (School Library Journal)

Walter Dean Myers was a New York Times bestselling author, Printz Award winner, five-time winner of the Coretta Scott King Award, two-time Newbery Honor recipient, and the National Ambassador for Young People's Literature. Maria Russo, writing in the New York Times, called Myers "one of the greats and a champion of diversity in children's books well before the cause got mainstream attention."

About the Author
---
Walter Dean Myers was the New York Times bestselling author of Monster, the winner of the first Michael L. Printz Award; a former National Ambassador for Young People's Literature; and an inaugural NYC Literary Honoree. Myers received every single major award in the field of children's literature. He was the author of two Newbery Honor Books and six Coretta Scott King Awardees. He was the recipient of the Margaret A. Edwards Award for lifetime achievement in writing for young adults, a three-time National Book Award Finalist, as well as the first-ever recipient of the Coretta Scott King-Virginia Hamilton Award for Lifetime Achievement.
Praise For…
---
"Expertly realized game sequences. There's plenty of basketball here, but, as in any good sports novel, more is going on than the sport; life is the game, and this is a sensitive portrait of a likable young man, his family, city and dreams." — Kirkus Reviews (starred review)
"Myers clearly knows basketball, and he nails the court action. A great choice for sports fans." — KLIATT (starred review)
"In this story of a teen who dreams of making it big in the NBA, Myers returns to the theme that has dominated much of his serious fiction: How can young black urban males negotiate the often-harsh landscape of their lives to establish a sense of identity and self-worth? Myers eschews easy answers, and readers are left with the question of whether or not Drew is prepared to deal with the challenges that life will inevitably hand him." — School Library Journal
"Basketball fans will love the long passages of detailed court action. Passages that could have read as heavy-handed messages come across, instead, as the authentic thoughts of a strong, likable, African American teen whose anxieties, sharp insights, and belief in his own abilities will captivate readers of all backgrounds." — Booklist